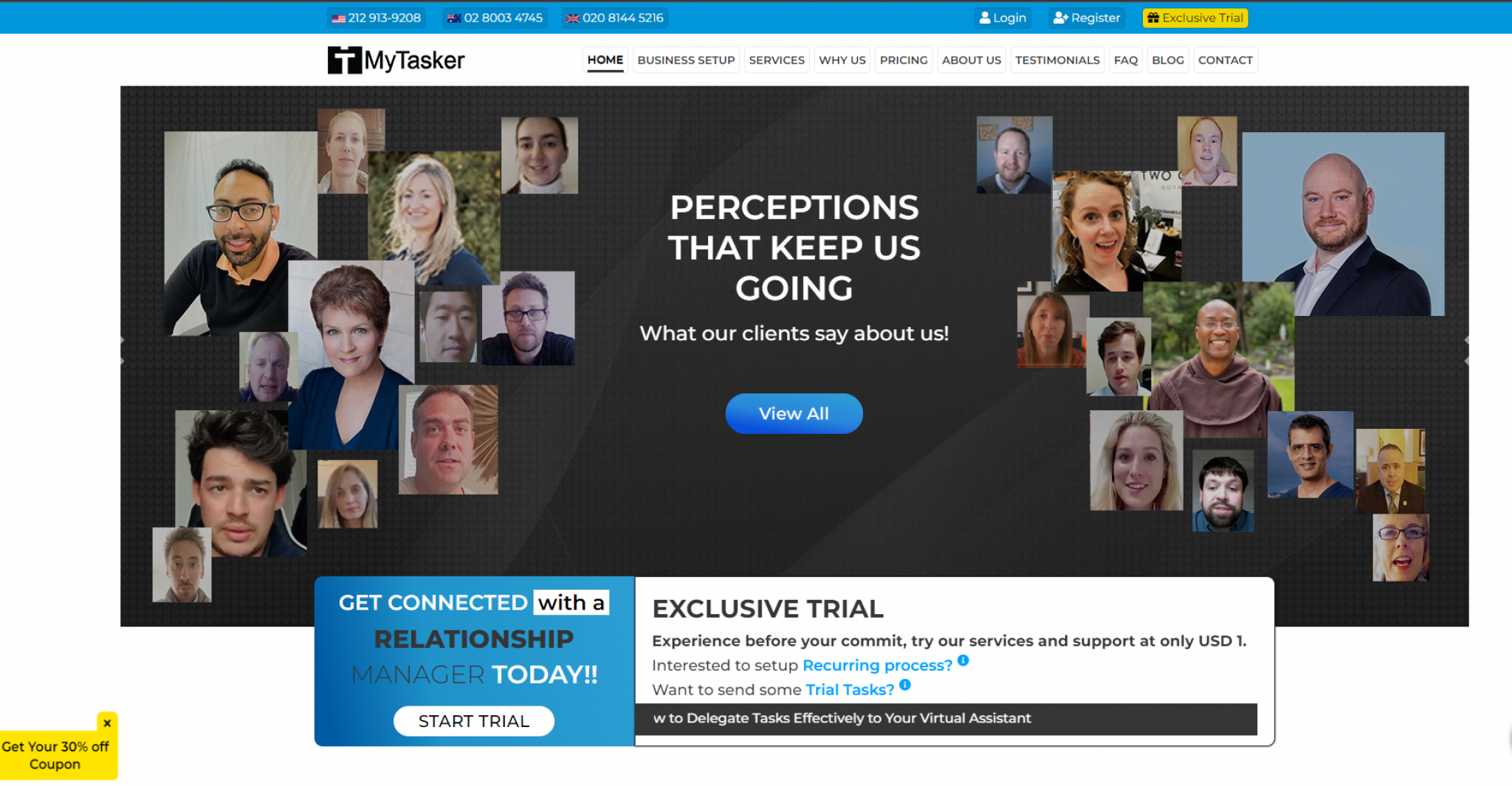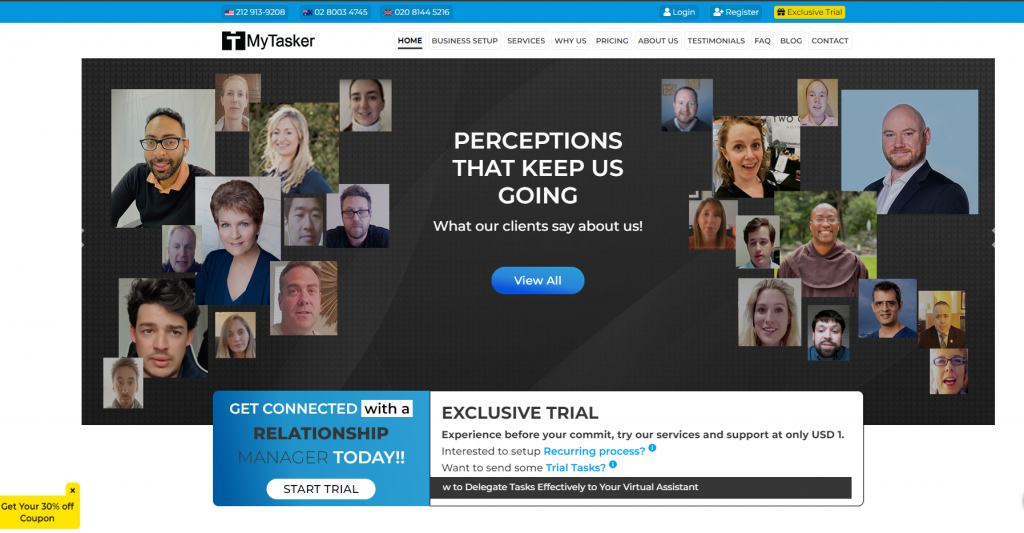 MyTasker was founded in 2012 by veteran virtual assistants to provide a more streamlined approach to the industry. Since this group has already spent a decade in the trenches, they know how to deliver high-quality results while keeping prices affordable.
It started as a contract service on Freelancer. Since then, they've launched this standalone operation with over 100 staffers.
Features
Features Presented by MyTasker
Cost
MyTasker Pricing
MyTasker charges a monthly rate for VA services, allows you to hire a full-time virtual employee, or provides a pay-as-you-go service.
The latter is the most expensive, charging $18 per hour for unlimited availability.
If you purchase hour blocks for VA services, the cost ranges from $140 for ten hours to $900 for 100 hours.
The full-time employee option is $1,200 per month, delivering five-day availability for any business hours.
Advantages vs Disadvantages
Pros and Cons of MyTasker
When choosing MyTasker for a virtual assistant, your business can rest assured that the IP you have is protected. Every VA signs a non-disclosure agreement before employment, and the agency is willing to sign one on a business-to-business level.
Here are the various pros and cons to consider with an experience through MyTasker.
Advantages
1. Assurances are offered for having the work finished according to your expectations and on time.
2. It's one of the few agencies that delivers search engine optimization services as one of the available tasks a VA completes.
3. Multiple communication options are available, including Skype. Tasks can be delegated on-demand or through a systematic process.
4. The VAs at MyTasker are always responsive and polite, even when the work requirements are extensive.
5. Businesses receive around-the-clock services with this agency, including the option to work with a dedicated assistant. Everyone works under 24/7 direct camera surveillance with direct monitoring by the local IT department.
Disadvantages
1. All pre-purchased hours expire at the end of each cycle, which means some users could lose hundreds of hours.
2. The virtual receptionist plans are separate from the VA options, adding up to $500 more to your bill each month.
3. Work guarantees aren't included in the final price, and any revisions or changes your business needs to make can get charged as extra hours.
Final Verdict
Results to Expect from MyTasker
MyTasker makes sense if you want to lower costs through outsourcing while pushing toward the specific goals and outcomes you have as a business.
These VAs go through a streamlined onboarding process where they work toward your vision and goals.
The pricing is comparable to other affordable choices. Although the work quality could be questionable when the demand is for a highly technical job, the end result is typically satisfactory for most everyday needs.


MyTasker Review: Is It the Right Place for VA-Based Tasks?
Starting at $140 per 10 hour