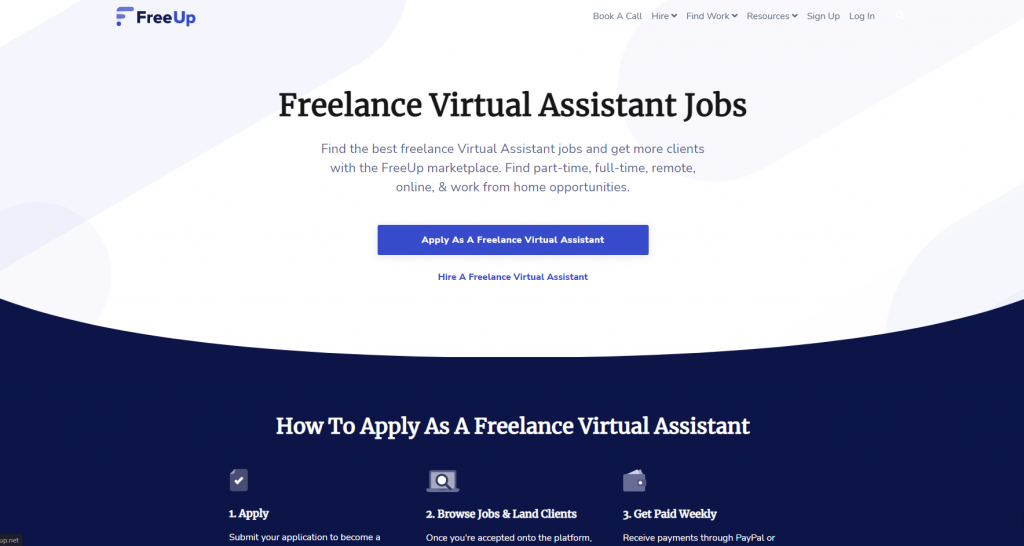 Is FreeUp worth it when you need a virtual assistant to manage some of your tasks? The agency claims that it works with the "top 1%" of talent, matching you with a qualified freelancer within a single business day.
If those claims are valid, it could help you take charge of your business in unique ways. If not, FreeUp could be a waste of time and money.
Features
Key Features of FreeUp
Cost
Pricing for FreeUp
FreeUp offers a variable rate when hiring someone from this platform to provide VA work. The actual cost depends on the remote worker's experience level and location.
At the lower end of the pricing spectrum, you'll find providers offering basic administrative work for as little as $5 per hour. If you hire someone from a developed nation, the cost could be as high as $100 per hour.
FreeUp takes a 15% commission on a freelancer's earnings.
Advantages vs Disadvantages
Advantages and Disadvantages of Remote CoWorker
FreeUp was established in 2016 to provide an alternative platform for freelancers who were dissatisfied with the gig structures on sites like Fiverr.
The goal of FreeUp is to facilitate a match between a VA and a business that requires services. Since every industry receives support, the platform matches the open position needs to qualified candidates that they've already vetted.
That structure delivers the following pros and cons when using FreeUp.
Advantages
1. Candidates must complete detailed applications, test their Internet speed, and pass typing tests to be considered as qualified VA candidates on this platform.
2. A second interview is required to determine each VA's work ethic, communication skills, and problem-solving acumen.
3. Any candidate that passes both interviews must complete two tests involving the terms of use of the platform and FreeUp's best practices. It's only then that they can apply for posted projects and browse.
4. Businesses receive suggestions for qualified candidates within 24 hours of making a request. That means someone found on Tuesday could start working for you on Thursday.
5. FreeUp provides high-quality customer service as a VA platform, even covering replacement costs if the freelancer you hire quits.
Disadvantages
1. You must be comfortable with the idea that FreeUp is doing all the vetting work on your behalf. They're more of a matching service than someone who delivers a VA.
2. he platform only offers between 1-3 matches at a time, which means the person they suggest might not be a good fit.
3. The marketplace is much smaller than similar services that offer access to virtual assistants.
Final Verdict
Final Thought on Using FreeUp for VA Work
FreeUp offers the advantage of opening a door faster for a small business owner. It delivers an efficient hiring process that remains relatively affordable.
Since you're hiring people instead of a service, the costs are unpredictable. It could even be quite expensive when hiring someone from a wealthy country.
If you don't mind relinquishing some control, FreeUp can streamline your hiring.

FreeUp Review: Is It a Good Platform to Find a Freelancer or VA?