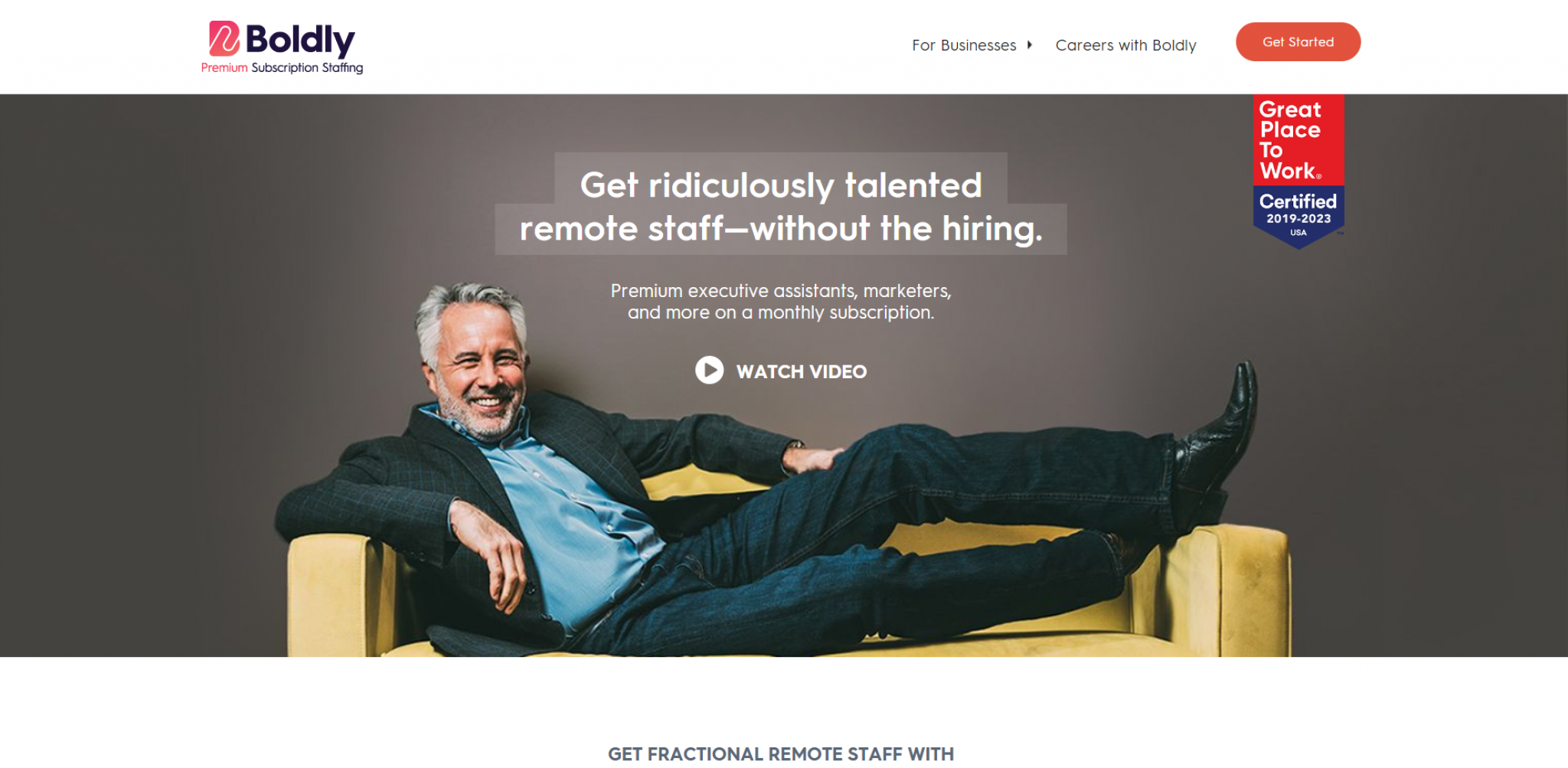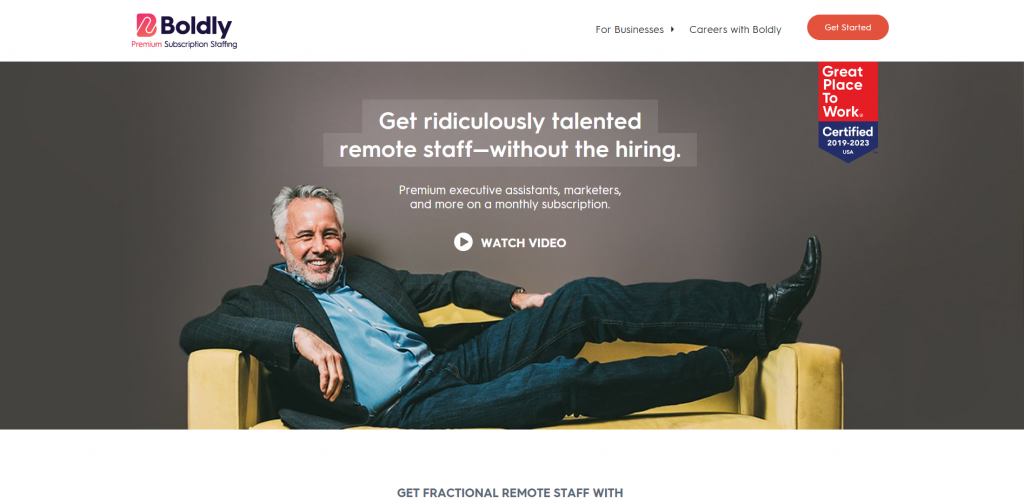 Boldly is the new name for Worldwide 101. It markets itself as a premier subscription staffing agency with a focus on providing services to businesses in the developed world.
This platform works hard to support the needs of founders, company executives, and busy entrepreneurs by delivering skilled remote VAs. Depending on your comfort level, these workers can even represent your agency.
Features
Key Features of Boldly
Cost
Prices to Expect on Boldly
The minimum package available for those using Boldly is $1,470 per month. This plan delivers 30 hours of services per month, including project management, email marketing, bookkeeping, and more.
If you choose the 60-hour plan, the cost is $2,940 per month. You can also request customized services.
Each plan delivers a 60-minute complimentary launch meeting so that everyone can get on the same page.
Advantages vs Disadvantages
Pros and Cons of Using Boldly
Boldly was founded in 2012. Instead of bringing on a team of contractors, the staff are employees of this company. That means you can remain in compliance, have experienced staff available, and trust the results.
Here are some of the pros and cons to expect when using Boldly for your VA needs.
Advantages
1.  Boldly is a hybrid model that lets you select a dedicated or team-based service that functions within the standard capacity of a virtual assistant.
2. The highly personalized nature of this service makes it a sensible solution for businesses that need something closer to a traditional employee.
3. . Many of the workers at Boldly have 10 to 15 years of experience within their chosen field, allowing businesses to have more trust in the eventual deliveries.
4. Workers must complete an extensive vetting process to join the Boldly team, including a comprehensive background check.
Disadvantages
1. Boldly's services are significantly more expensive than other outsourcing platforms.
2. Part of the VA's job is to interview with potential clients, which means they'll sometimes come in with a heavy sales pitch if they haven't had work in some time.
3. Although the team is considered employees instead of contractors, most of the VAs for your business still work remotely.
Final Verdict
Final Verdict: Is Boldly Worth the Price?
Boldly delivers a unique venue for experienced virtual assistants. It's less of an outsourcing option and more of a hiring solution.
If your goal is to save money by finding VAs from overseas that work at lower hourly rates, Boldly is not the service for you. Although the costs can be high, the results also tend to be superior.
When you need specific expertise for a one-time project or ongoing admin support without any local candidates, Boldly fills in those gaps nicely.


Boldly Review: A Platform Where No One Has Gone Before?
Starting at $1,470 per month