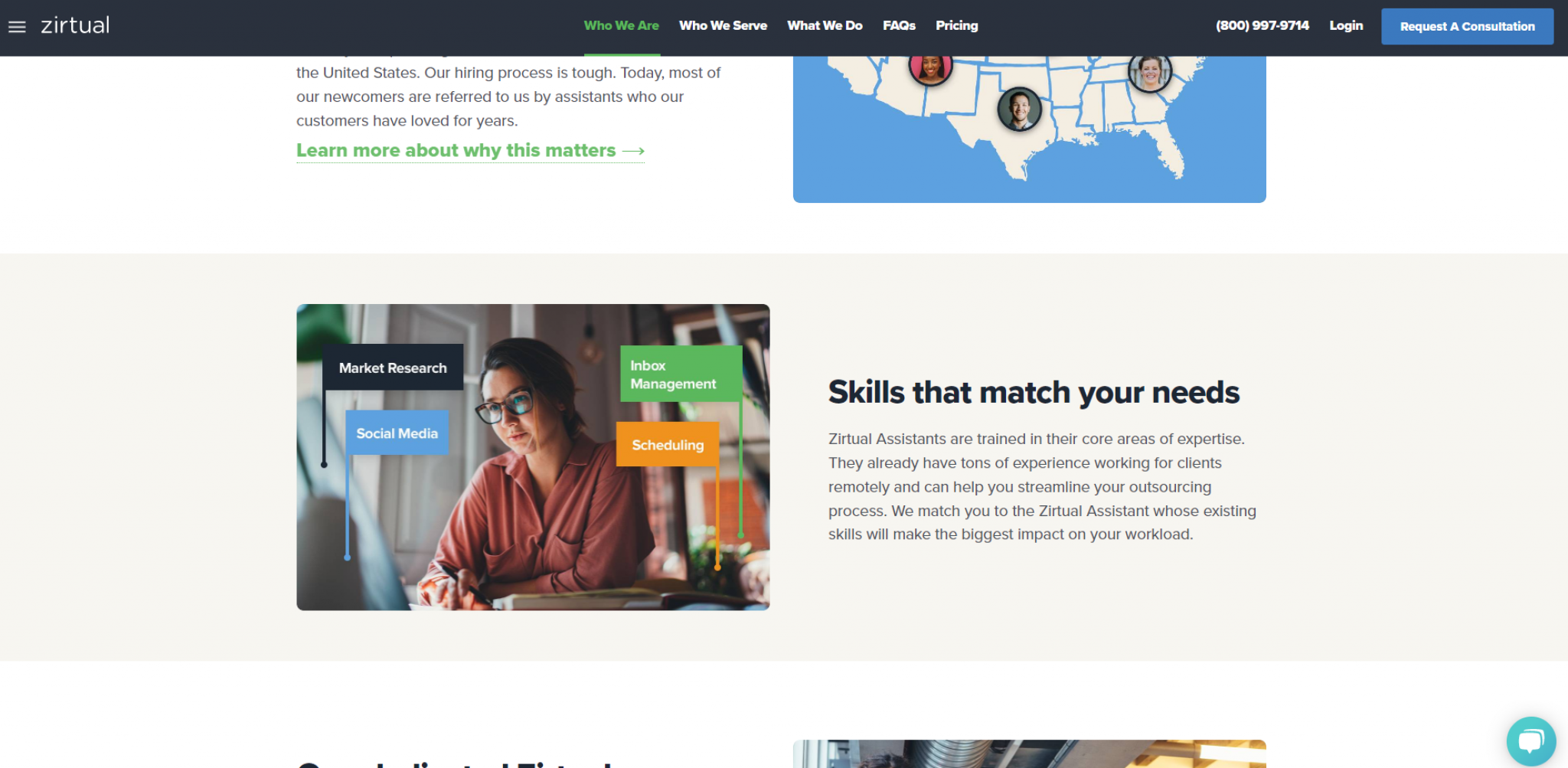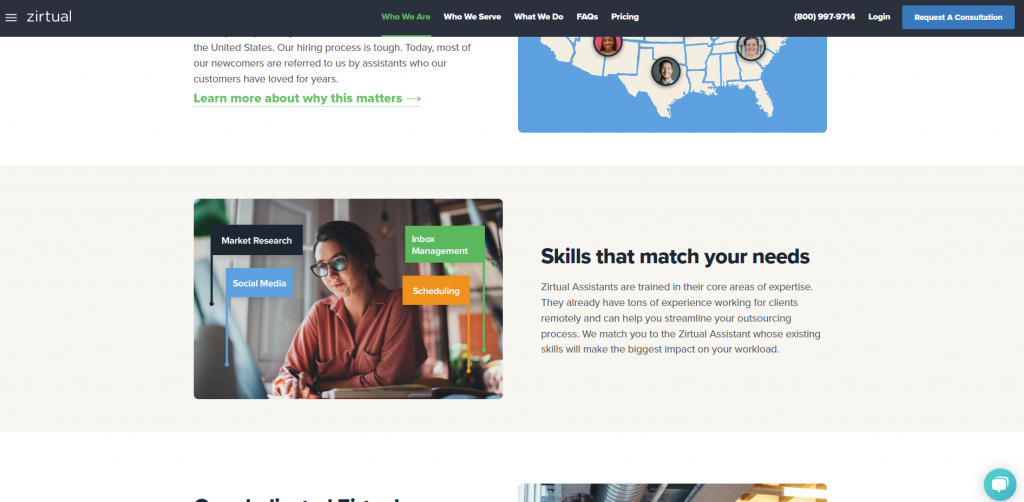 Zirtual is a virtual assistant service platform that offers several industry-based supports. It provides smaller programs that are well-suited for specific tasks that might only need a few hours or days of support per month.
By offering a flexible structure, Zirtual hopes to help you scale your business by working with some of today's best specialists.
Features
Key Features of Zirtual
Cost
Cost of Using Zirtual
Prices for Zirtual currently range from $449 per month to $1,499 monthly. You'll receive 12 hours of task work at the lowest rate or 50 hours at the highest.
Unlike other platforms, Zirtual includes multiple users. You can have up to five when paying for the $1,499 team plan.
There are no setup fees or contracts to manage.
Advantages vs Disadvantages
What Are the Advantages and Disadvantages of Zirtual?
Zirtual was founded in 2011 to offer several VA support categories to consider. You can select from writers, marketers, data entry pros, and traditional administrative helpers, and much more.
Here are some of the pros and cons you can expect when working with this agency.
Advantages
1. Zirtual offers one of the better user interfaces in the industry today. All the features are where you'd expect them to be.
2. You have the option to customize the dashboard to meet your specific needs.
3. The software is affordable and easy to use, delivering immediate access to competent virtual assistants.
4. The option to have multiple users included isn't available on most other VA platforms, allowing you to create an actual team.
5. VAs can help a small business set up email campaigns, create social media profiles, and monitor the analytics generated from those efforts.
Disadvantages
1. Fewer opportunities are available for discounts, coupons, and other promos when working with this platform.
2. Business reviews after completed services are mixed, with some sites reporting an average rating of fewer than three stars.
3. The marketplace on this platform can be relatively limited for some industries, and the VAs often lack accountability or don't take feedback well.
4. There are no advance guarantees offered on this platform.
Final Verdict
A Final Thought on Using Zirtual Successfully
Zirtual works equally well for those who need help with simple tasks or complex solutions. Although there tends to be a real estate emphasis on many of the services, almost any business can benefit from their generalized approach.
It's important to remember that Zirtual imploded in 2015, ceasing operations because of financial issues. Startups.co acquired the brand and resumed under new management a week after the shutdown.
If you need help and a VA can provide it, Zirtual could make sense. It may be wise to proceed with caution.


Zirtual Review: Your Ticket to Freedom with a New VA?
Starting at $499 per month